Welcome to
Mourne Road Parish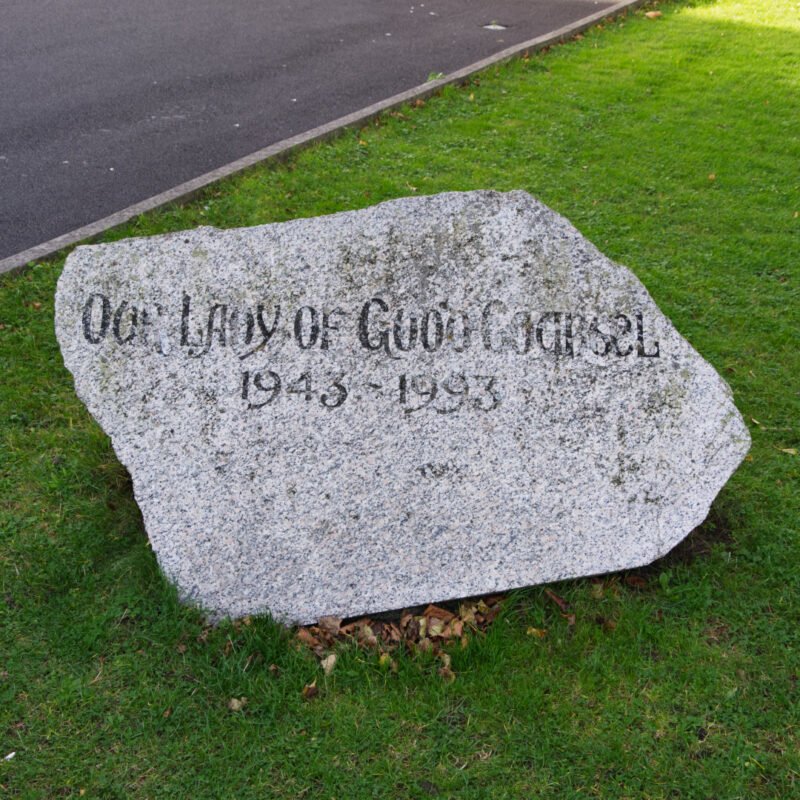 Serving Our Parish for almost 80 years
Our parish is a vibrant community on a journey inspired by the Christian message. We do this by welcoming you to risk being part of this living community.
If you feel hurt, we want to help. Do you have questions?  Let us find answers. When you are lonely, let us be with you. Where there is happiness we want to celebrate.
…For where there is Love, there is God.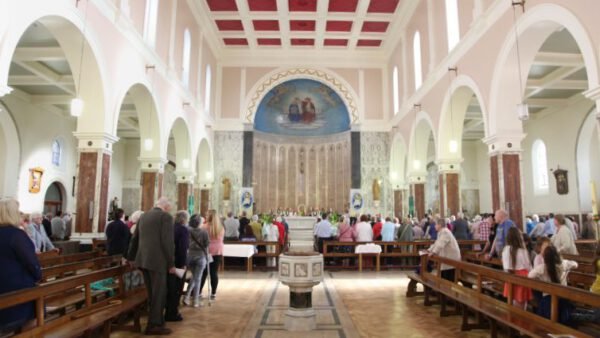 Morning Mass: 10:00am
Sunday Vigil: 6:30pm
Morning Mass: 9:00am (Spoken)
Noon Mass: 12:00pm (Solemn Sung Mass with Parish Choir and Organ)
The 10:30am Family Mass (with Folk Group) will resume on 2nd October.
Wheelchair access at Sperrin Road doors.
Clicking the webcam button will open the webcam in a new tab.
There is no missalette for this Sunday's Mass.
Click the missalette below to view/download a larger version
Clicking the Daily Mass Readings button will open CatholicIreland.net in a new tab.
For Our Lady of Good Counsel's postal address, please see bottom of page.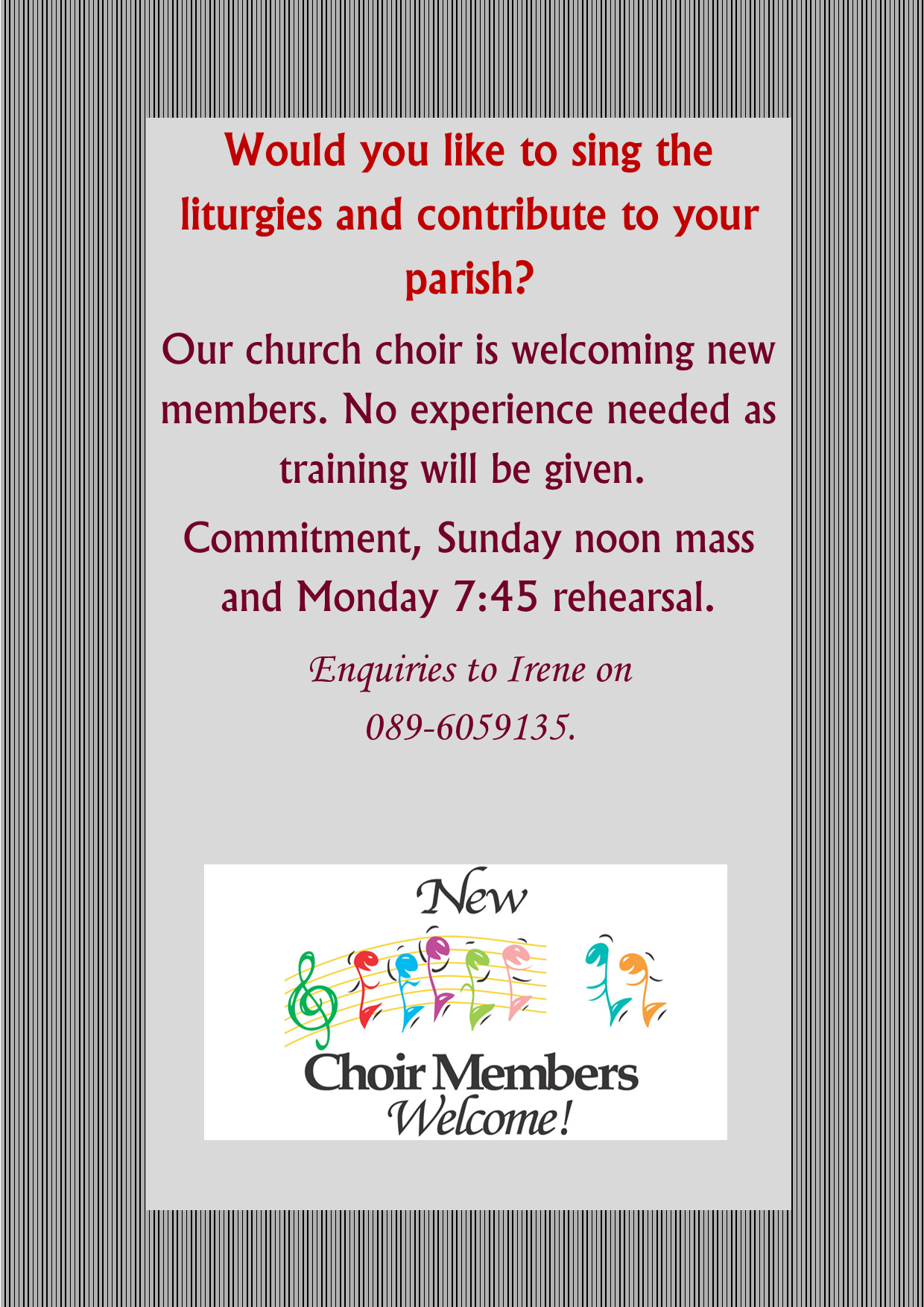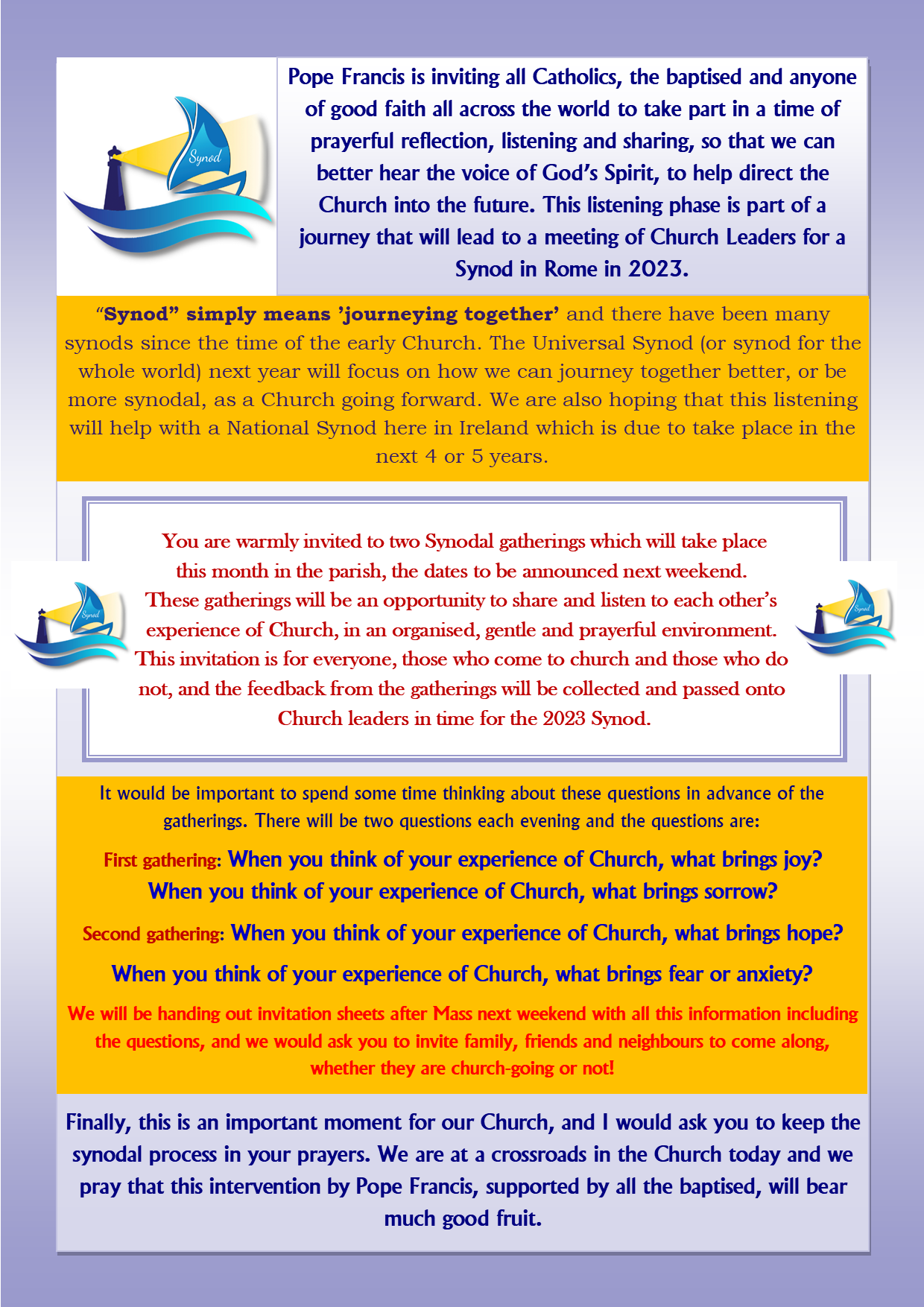 No news is good news! Check back soon to see what updates we have.
Click the image to view or the button below to download a copy to your computer or smart device.
Other Church News & Events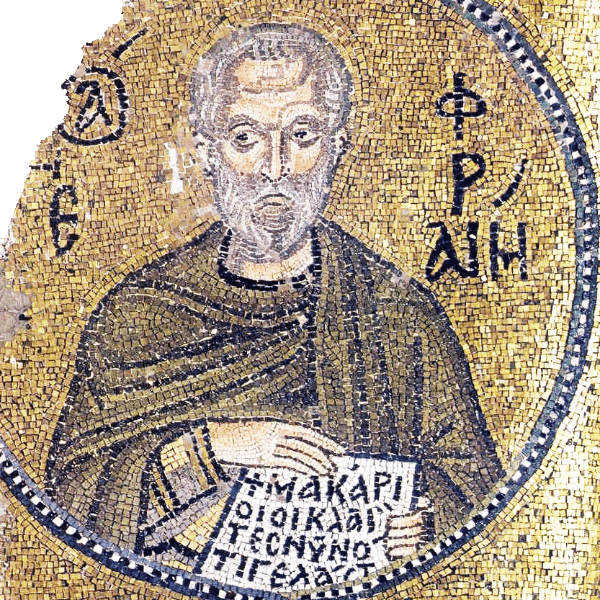 Click above to be taken to the article on the Dublin Diocese website.
Page will open in a new tab.
Clicking the Diocesan & Vatican News buttons will open their respective websites in new tabs.
Synodal Pathway report and letter from Archbishop Dermot Farrell
Feast of St Kevin, Patron, June 3, 2022
Dear Father, Deacon and members of Parish Pastoral Councils,
On this, the Feast of St Kevin, I am pleased to publish Synodal Pathway: the Dublin Diocesan Report (Synthesis).
Throughout the Diocese almost 13,000 people engaged in 'spiritual conversations' in their parishes about their joys, their sorrows and their hopes for what the Church can be today and in the future. The Synod invitation, to listen deeply to our people, and to walk together in prayer accompanied by the Holy Spirit, was received enthusiastically by most people. It has become clear that respondents valued the opportunity to share and participate in collective discernment. Pope Francis has stressed that the synodal process is not rooted in specific outcomes, but seeks a recasting of the culture of the Church which will bring about reform and renewal of its internal life so that we can more effectively proclaim the Gospel to our communities.
In expressing my heartfelt thanks to the Diocesan Synodal Steering Committee for their creative leadership in leading 1he Synodal Pathway in the Archdiocese, I also wish to commend them for the quality of the resources provided. In particular, the planning and implementation of training sessions on Zoom and in parish pastoral centres throughout the diocese. 325 animators led synodal conversations across 173 parishes and 19 sessions with focus groups. I wish to thank sincerely all who participated and gave generously of their time and talents in what was clearly an enriching and transformative experience for many.
The publication of the Report marks the completion of the diocesan phase of the Synodal Pathway initiated by Pope Francis. This Diocesan Report has been forwarded to the Irish Bishops' Conference and will contribute to the 'Synod on Synodality' in Rome, in October 2023.
Meanwhile, the Irish Church will continue to prepare for a National Synod which will take place in three years' time. This process will continue building the architecture of substantive synodality in the coming years. We have merely completed the first steps of synodality. The challenge now is to sustain the synodal impulse in our Church so that a process of enduring synodality becomes deeply embedded in the hearts and minds of the people of God.
I encourage you to read the Synthesis and to take steps to make it known and available to the people entrusted to your pastoral care. As we approach the Solemnity of Pentecost, we celebrate that the Advocate, God's own Spirit is at work in and amongst us.
Yours sincerely,
+Dermot Farrell
Archbishop of Dublin

Welcome & Introductory Materials
Framework for Pastoral Renewal
Useful Helplines
HSE - (1850) 24 18 50
The dedicated helpline if you or someone you know may have symptoms of Coronavirus or been in contact with someone who has
ALONE - (0818) 22 20 24
Open 8am-8pm for older people who have concerns or are facing difficulties relating to Coronavirus
SeniorLine - (1800) 80 45 91
Free phone service, open everyday 10am-10pm, which now supports older people with concerns about Coronavirus
Asthma Advice - (1800) 44 54 64
Free callback service available to people with asthma and the parents/carers of young people with asthma
COPD Advice - (1800) 83 21 46
Chronic obstructive pulmonary disease call back service, not to be used as an emergency service
Askonefamily - (01) 662 9212
Helpline for people parenting alone, sharing parenting, and for those separating
Samaritans - 116 123
If you are worried or finding it difficult to cope, this helpline is free and open day and night
Pieta House - (1800) 24 72 47
Free 24/7 profession helpline for people at risk of suicide & self-harm, and those bereaved by suicide
Women's Aid - (1800) 34 19 00
24 hour support for women living with abusive partners, if you have concerns about your immediate safety please contact the Gardaí on 999
Rape Crisis Centre - (1800) 77 88 88
Free 24 hour service for women and men who have been raped, sexually assaulted, or sexually abused at any time in their lives
FLAC - (1890) 35 02 50 / (01) 874 5690
If you have a legal query, the Free Legal Advice Centre's helpline is open Monday to Friday 9:30am-1:00pm and 2:00-5:00pm
Workers' Rights Centre - (1890) 74 78 81
SIPTU helpline, open 8:30am-5:30pm Monday to Friday, for issues related to work
Threshold - (1800) 45 44 54
If you are a renter and worried about the security of your tenure during the pandemic this helpline is open Monday to Friday 9am-9pm
MABS - (0761) 07 20 00
Advice service for money management and debt issues, open weekdays 9am-8pm
Safeguarding Children in Mourne Road Parish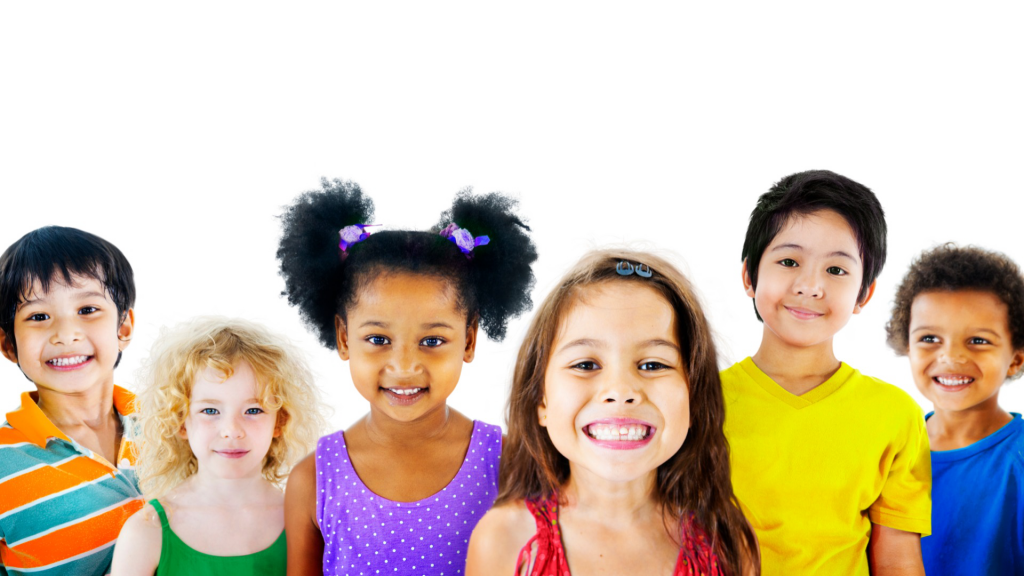 The Archdiocese of Dublin recognises and upholds the dignity and rights of all children, is committed to ensuring their safety and well-being and will work in partnership with parents/guardians to do this.
The Archdiocese recognises each child as a gift from God, and values and encourages the participation of children in all activities that enhance their spiritual, physical, emotional, intellectual and social development.
All diocesan personnel (including clergy, religious, staff and volunteers) have a responsibility to safeguard children through promoting their welfare, health and development in a safe and caring environment that supports their best interests and prevents abuse.
Your Parish Safeguarding Representatives are:
Ms. Mary Haybyrne Nguyen & Fr. Dave Brannigan
and are contactable through the parish office (see below for contact details).